Home
Winder Rewinder for Inkjet Printer
Winder Rewinder for Inkjet Printer
---
For
Salvage Rewinding (Correcting badly Wounded Reels for Inspection & Doctoring Operation.)
Printing of Mfg. Date, Expiry Date, Batch No., Sr. No,
INTRODUCTION: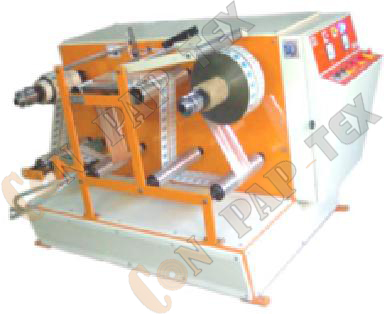 In any paper, film and foil conversing industries, the Winder Rewinder Machine, Winding Rewinding Machine, Doctor Rewinding Machine are0 used widely for on-line printing of Mfg. Dt., Exp. Dt. B. No. etc. using Ink- jet printer or other contact coding machines from Roll to Roll at high speeds & then these printed roll are used in various packaging machines.
FEATURES:
Cantilever design balancing body for easy loading and unloading of parent / rewound reel. Movable unwind stage for Edge guiding System (Hydraulic Web Aligner).
Mechanical 1.5 / 2.5 Kg. Optional Magnetic powder brake with tension controller & Torque control potentiometer. Provision for incorporating Ink Jet Printing System with Hot air ink drying.
The Model is specially designed for correcting badly wounded reels for inspection & doctoring operation.
It is great substitute to online coding / batching operation
STRUCTURE FITTING:
M.S. CHANNEL FRAME BODY with mechanical clutch & break unwind / unwind system, unwind / rewind shaft & cones for printed material holding cores for printed material cores, alum – guide roller & all other standard accessories.
ACCESSORIES FOR INKJET CODER MOUNTING INCLUDED IN THE MACHINE
Technical Specification:

| | | | |
| --- | --- | --- | --- |
| | Web Width / Weight | : | 75-500 mm. / 100 Kg. (Above 500 mm – Heavy Duty Machine) |
| | Max. Max. Parent Reel Dia | : | 400 mm. |
| | Max. Rewind reel dia. | : | 400 mm |
| | Rewind Core dia. | : | 76 mm |
| | Motor | : | 2 HP DC motor |
| | Max. Designed Speed | : | 100 to 150 Mtrs / min. |
SUITABLE FOR ALL TYPES OF INKJET CODER / THERMAL PRINTER

Also manufactured by us:
Hydraulic Web Aligner (Web Guide) Unit & all its Spare Parts for existing Winder Rewinder
ANY MAKE INKJET PRINTER / THERMAL PRINTER CAN BE SUPPLIED ALONG WITH OUR WINDER REWINDER