Spacers
---
Slitting Line Spacers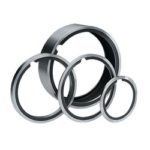 Slitting Line Spacers (Metallic & Rubberized)
We are engaged in manufacturing and supplying a wide range of slitting line spacers (Metallic and Rubberized). These slitting spacers are widely used in different industries for cutting and trimming of different metals and alloys. We manufacture our range using premium quality raw material for ensuring the uniform hardness of these Slitting Spacers. The precision heat treatment process confirms the longer runs; high-quality slit edges and decreased regrind cycles.
Size Range:
Dia : 100 mm to 450 mm
Thickness : 1 mm to 150 mm
Product Diameter: As per customer Specification
         Product Length: As per customer Specification
SPACER:
As an important component of slitting line tooling Spacers for overarm separator disc play a vital role in setting up a slitting line tool. These rings are provided to maintain a uniform computed defined distance between the rotary slitting knives of the slitter cutter. The distance rings should have the same formation in term of dimensions and shape as that of the cutter or the slitting cutter knife that is being used in the operation of cutting or slitting, it is also noticed and advised to use the size of the distance rings as a bit smaller as that to compared of that of the knives that are being used for the cutting or the slitting operations so that the knives can enter into the material that is being slitted or being cut by the knives cutter and also for knife maintenance like grinding and sharpening of the cutting edges of the knives.
Accuracy of the Distance Rings Used With the Overarm Separator Disc Can Govern the Performance of the Cutting/ Slitting Operation
CON-PAP-TEX Are Prime Supplier & Manufacturer Of Distance Rings For Over Arm Separator Disc An Important Component Of Slitter Tooling.
RUBBER SPACER AND RUBBERIZED SPACERS:
Rubber Rings and rubber spacers are manufactured by CON-PAP-TEX which are a common component used in slitting line tooling set up.
Premium quality, high precision, durable and long lasting are adjectives that best describe the products manufactured at Dee Tee Industries. An epitome of perfection, our company has always striven to provide only the best to its clients ever since our establishment.
The usages of prime quality spacer which can be metal spacers and rubber spacer directly effect the maintenance cost and the life of the cutting knives in the slitting tooling.
METAL SPACER:
We manufacture export quality metal spacers which are used in various applications. Made of high quality Steel Shim
Finish can be #2 bright or matte
Keyways conform to international standards
Packaged and shipped in air tight poly bags
Special sizes, materials and bulk quantities available on request Used for fast accurate spacing of milling cutters, gang cutters, saws, slitting blades and grinding tools